On 22-23 October, 2015 the 7th International PLUS-Forum "Cash Circulation + Self-Service. Banking and Retail 2015", organized by The PLUS Journal will take place in the Sokolniki Congress & Exhibition Center in Moscow.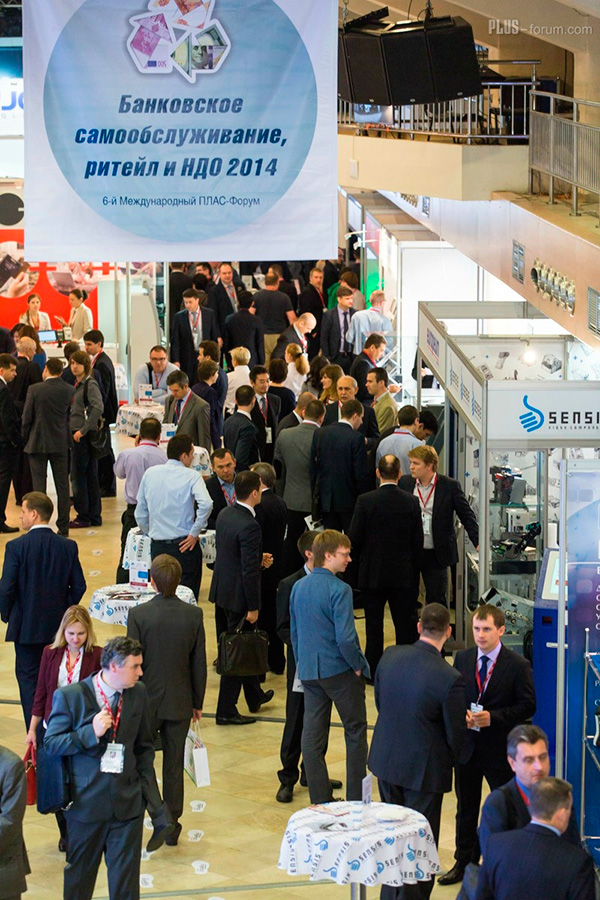 The event will focus on discussing the prospects for evolution and transformation of the bank branch networks in the context of the new economic reality in the RF, implementation of new branch formats and automation concepts, etc. The ways of improving the cash
Circulation itself will be studied, including development of the current infrastructure for cash handling, self-service banking systems (ATM, recyclers, information and payment terminals, etc.). According to majority of market experts, these problems are highly relevant today, against the backdrop of the rapid development of digital banking and changes in the Russian retail banking.

The key objectives of the event includeanalysis of the current state of the cash circulation security and goal setting in this area, assessment of the causes and consequences of the deteriorating situation in cybercrime aimed at the banking sector, payment infrastructure and self-service systems, including increase in ATM fraud, as well as seeking for effective ways to combat cybercrime.

For the first time in its history, the PLUS-Forum will bring together market participants at a unique platform featuring advanced infrastructure and the nature of Sokolniki park, a historic recreation area of Muscovites and guests of the capital city.

The number of invited speakers is growing; the following experts have joined it recently:

• Tony Benson, Managing Director of Applied DNA Sciences Inc., EMEA, with a report: "Adhesive layer and DNA markers as the best defense against theft of cash in transit";
• Maxim Daryoshin, Head of Self-Service Systems, Processing Center, Retail BusinessDivision, Alfa-Bank, with a report: "Videoteller: cashier's desk with ATM elements or ATM with cash register capabilities";
• SergeyParavin, Project Manager, Self-service Systems, Ingenico, with a report: "Ingenicoofferings for remote banking services";
• EvgenyAleshchenko, Sales and Business Development Manager, Financial Services, the CIS countries, Crane Payment Innovations, with a report: "High-tech solutions in the cash circulation market."
The following partners and sponsors have joined the Forum recently:

• CPI as General Sponsor;
• BS/2 as Chief sponsor;
• Giesecke&Devrient – LOMO as Cocktail Sponsor;
• Unicum, Touch Plat, PSIT as Partners;
• Motion View as Technical Sponsor;
• Interfax as General Media Partner;
• The BDM - Banks and Business World magazine, Trud.com web-portal as Media Partners.
 We invite speakers and vendors to participate in the event!
According to the estimates of the PLUS-Forum Steering Committee, over 1,200 participants will attend the event this year.

Among the main topics to be discussed during the conference of the 7th International PLUS-Forum are the following:

Cash circulation and global trends. Forecastsandprospects.

Cash circulation as profitable business. A mythorreality?

New role of bank branches in the changing world. Seeking for a format: client-centric model of the branch

Building of a multi-format branch network on the basis of multi-vector segmentation of the customer base

Modern concepts and practices of a retail bank branch formatting in Russia and globally

Branchless bank: niche experiments or a universal concept

A branch on ATM: video and audio consulting services at ATM as an example of formats convergence

A self-service branch: concept, technology, equipment

Servicing of elderly and disabled people at branches: formats, methods, opportunities for a bank

Market situation and basic trends of further self-service evolution (ATM, cash-in, cash-recycling, ADM, payment terminals, etc.)

Biometry in the ATM network and  bank branches: Russian and international practices

Flagship branches of the banks: a proving ground for testing new technologies

Mobile branches and dismountable mini-offices as a factor of broadening the area of bank's presence

IT solutions for evaluation of bank branch operating efficiency

Personnel mobility in the retail bank branches: concepts, implementations, cases

Cash-management – a vital element of optimization  of  customer support service costs

Geolocation in retail banking and other innovative services

New cash circulation automation technology: ATS, TCR, TCD – next stop: everywhere?

Digital signage and QMS at a retail branch: goals, formats, results

Electronic cash. From the regulators' negative perception towards probable coming into circulation in the foreseeable future

Main threats to security. Cyber ​​attacks. Protection technologies. Biometrics. Monitoring and counteraction

Physical attacks at ATM and branch infrastructure. The modern threat landscape. Counteraction methods

Counterfeiting. Forecasts, prospects, recommendations

Technical means and methods of detection of counterfeit currency units

Cashcollectionandcalculationtechnology

Processing systems and other systems for control and monitoring of self-service networks

Cash circulation and retail. The retail chains' needs of cash circulation services automation (self-service systems, self collection, etc.)

Otherinterestingissues



| | |
| --- | --- |
| | |
Along with the conference, a wide-scale annual exhibition of specialized equipment and technologies from leading Russian and international companies will take place during the two days of the PLUS-Forum.

The 7thInternational PLUS-Forum "Cash Circulation + Self-service. Banking and Retail 2015" will be held with the active participation of representatives of Russian and foreign regulators, commercial banks of Russia and other countries, top managers of retail companies, as well as officers from relevant ministries and departments, law enforcement agencies, suppliers of equipment, technology and other stakeholders.

Keep in tune with the PLUS-Forum news in Facebook. The official Forum hashtag: #banks2015.
Online registration for PLUS-Forum is open!